Cambridge Duck Rally!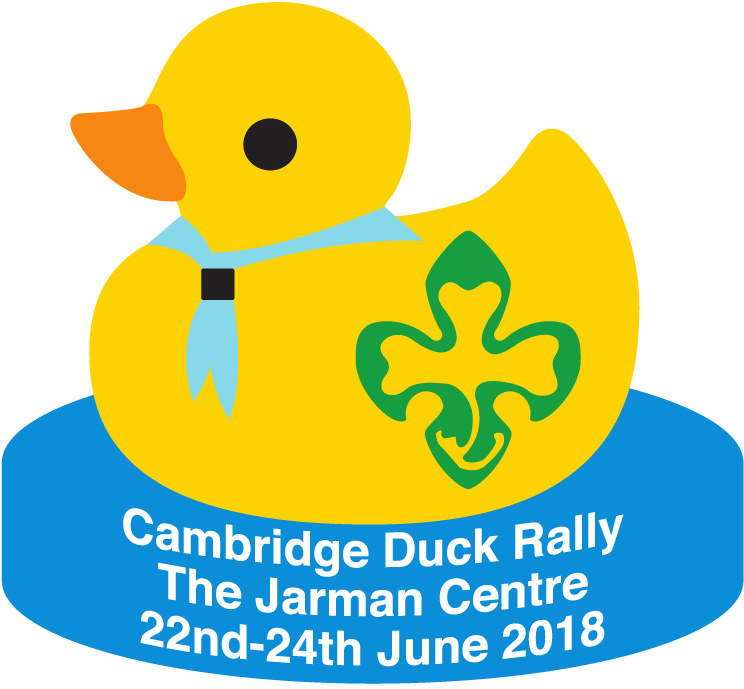 22nd - 24th June
The Jarman Centre
Welcome to Duck Rally, held at the Jarman Centre (near Newmarket) from Friday 22nd to Sunday 24th June 2018! It all started as a dreamy proposal but now there's no ducking out, Summer Rally is coming to Cambridge! We will be hosting our own duck-based take on Summer Rally and we hope you will enjoy!
We have a whole range of options, including some indoor accommodation for those of you who would rather nest inside and everyone will get the opportunity to explore the city of Cambridge. People with full day activities will head over from the hike or water activity centre to Cambridge for dinner and the ceilidh in a local scout hut. Those with afternoon activities are also flapping off to Cambridge in the morning for abDUCKtion, our morning game. We will have our own bar during the ceilidh, serving reasonably priced drinks and SSAGO favourites; you can also bring your own drinks but once you leave site in the morning you will not be able to return to the site until after the ceilidh.
We would love to see as many of you as possible and we will be rewarding SSAGO and individual clubs with exciting stretch goals. They keep getting better and better as more people book!
Extend your Stay: Extra Accommodation
Travelling a long distance? Bored after exams? Club summer camp? Cheaper trains? Why not extend your stay before and/or after Rally and make a camp out of it? Find out more
Booking Information
18/04/2018 18:00 to 08/05/2018 02:00: Main Booking [£27.00]
Book now for the cheapest price!
08/05/2018 02:01 to 01/06/2018 02:00: Late Booking [£30.00]
You're late but you've not missed out yet! There's still time to book on for all the ducks you desire it just costs £3 more.
01/06/2018 02:01 to 20/06/2018 02:00: Final Phase [£32.00]
This is your last chance, give in to the ducks, you know it's worth that extra £2 from the last phase.
Activity of the moment
A sneak peak at one of the many activities to do at Rally!
Vineyard Tour and Tasting

Visit Chilford Hall, one of England's oldest established vineyards which has won multiple awards and is one of the largest in East Anglia at 18 acres, with 17000 vines and 9 different varieties and similar soil conditions as the Champagne region. The vinification process takes place on the estate too. Chilford Hall wine is characterised by clean flavour, a fragrant nose, fruit body and good acidity. There is around a mile of walking in this activity showing you the whole wine making process, from the vines to the drinking!
Cost: £20.00
Spaces remaining: 7/16
Stretch Goals
There are
209
members currently booked on from
30
clubs.
The most recent person to book was
Eddie
(Guest).
Participant Stretch Goals!
1: The SSAGO Chair gets gunged. Happy birthday Josh!
✔ Acheived by: Oliver Bills (Southampton SSAGO)
50: Film Time Relax after getting to rally with our Friday night screening. Weather dependant it may even be outdoors.
✔ Acheived by: Lorna Sturgess (UWE Bristol)
100: T-Shirts added to Shop! We'll add the option for *exclusive* duck rally T Shirts available to order online before rally!
✔ Acheived by: Jonathan Barrett (Birmingham)
150: Saturday Night Hike Looking for something different to do on Saturday night? Join us for a night time stroll around the city of Newmarket.
✔ Acheived by: Emily Lear (Leicester)
200: Brownies at Midnight: Craving a midnight snack? Get up to 200 people and we'll bring out the chocolate brownies.
✔ Acheived by: Remy Johnson (Manchester)
250: Evening Archery Some adventure from the get go, with 250 people we'll run archery Friday night.
300: Duck Tape Crafts Coasters, wallets, ties and purses. What can you make with duct tape?
320: Biggest Rally Ever (so far)! We'll be doing something special if we smash this milestone!
Club Stretch Goals!
1 Member: Club Duck Mascot:
Every club will receive it's own rubber duck mascot for attending rally, be careful though, it's kidnappable and we'll be upset if it's not in lots of pictures!
✔ First Achieved: Southampton SSAGO
25% of Club: Lucky Dip Badge:
Each participant from your club will get to have a lucky dip badge, could you win a rally or site badge?
50% of Club: Play foul in Fowl Play:
You're club will receive a (slight) bonus in our Club vs. Club games.
75% of Club: Less likely to get gunged:
With more of your club attending you'll have more people to hide behind if any gunge does get thrown at your club, you'll also get a slightly bigger duck mascot to hide behind.
100% of Club: SSAGO Success Article:
The rally chair will write and submit an article praising your club for perfect attendance.
---
We'll be making updates on Facebook so join the event here. If it's your first Rally, don't forget to read the Attending your First Rally factsheet.
If you experience any issues in the booking process, please contact webmaster@ssago.org.