Home
Welcome to South West Freshers' 2020- Maskmaster!
Badges are now available! They cost £2.85 (+ 65p postage) each and you can order one by emailing the quantity and your address to swfreshers.2020@gmail.com. Please contact us by Friday 20th November.
This year's South West Freshers' is a little different because of COVID but we still have a fun weekend planned for you!
Over the weekend of the 23rd-25th October, Exeter SSAGO (SAGE) will be hosting a Taskmaster inspired event where our 'Maskmaster' Basil (our wonderful mascot) will set you a variety of fun tasks which you will need to submit to us. At the end of the weekend, we will announce the Maskmaster champion based on the points Basil and us, his assistants, have decided to award each submission...
A HUGE Thank You to everybody who participated and sent submissions in! We'll share some of our favourite entries on Facebook and here on the website over the next few days.
The final results are as follows: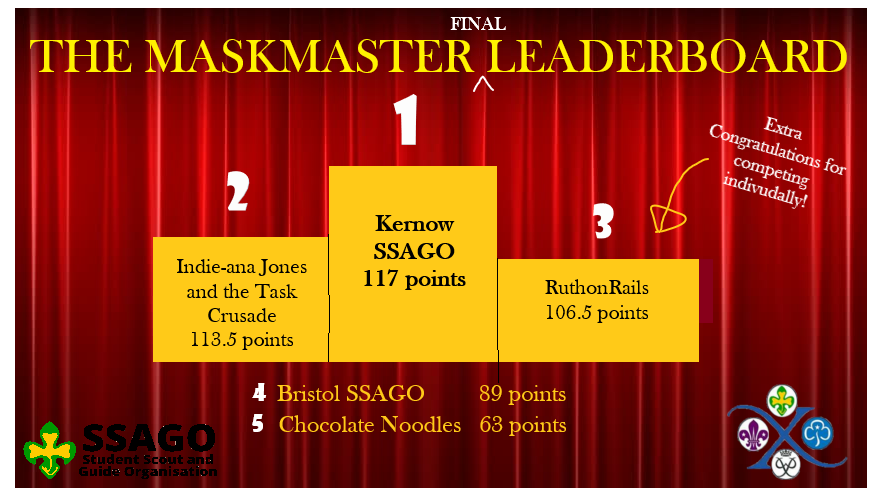 The Taskmaster looks forward to your submissions.
(And he apologises for the bad design on the website- he says that he is only a Build-a-Bear and does not understand computers.)
Follow us on Facebook: South West Fresher's 2020
If you have any questions, please email us on swfreshers.2020@gmail.com
If you experience any issues in the booking process, please contact webmaster@ssago.org.