Getting There
Getting There
The camp is being held at the 6th Allerton Scout Hut, behind Victoria Memorial Hall Club, Church Road, Garston, Liverpool L19 2LW. The campsite is a 10 minute walk from Liverpool South Parkway Train Station.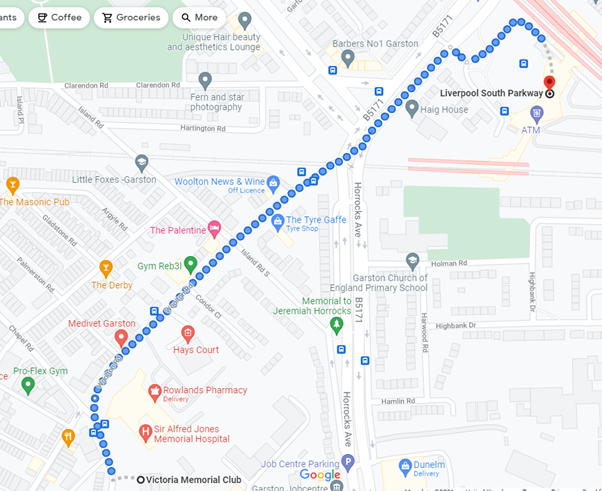 There is very little parking on-site. We recommend travelling by train to Liverpool South Parkway, or in a club minibus.
Other Transport Options:
Train:
Liverpool South Parkway (Northern, East Midlands Trains, London Northwestern, Transport for Wales, Merseyrail)
Liverpool Lime Street, 6 miles away (Virgin, Transpennine Express, Northern, East Midlands Trains, London Northwestern, Transport for Wales, Merseyrail). From Lime Street, you can get trains to South Parkway, or buses to the campsite.
Bus - From Liverpool: 80, 80A, 82, 86, 86A (Arriva, Stagecoach)
Air - Liverpool John Lennon Airport (Ryanair, Easyjet, Wizz air, Flybe, Blue air, Lauda, Widerøe)
Sea - Liverpool/Birkenhead (Stena Line, Isle of Man Steam Packet Company)
Arriving during the event:
If you have any questions about the specifics not covered, or you will be arriving at an unusual time/place, please get in touch with the committee and we can help make arrangements.
Saturday Morning:
If arriving for the walk, we will be leaving site at around 10am, a committee member will be leaving Liverpool South Parkway Station with any arrivals by train at 9:45am, so please plan to arrive before then and contact the committee if you are delayed.
If arriving for the museum, a group from site will be arriving at Liverpool Lime Street Station at around 10:45am to walk to the museum.
Saturday Afternoon:
The Monopoly Run will be starting at 14:00 at Lime Street Station, either near the steps outside, or just inside the main building if it's raining.
Northern SSAGO Goes to Spoons:
This will be starting at 17:00, we will be spread across most of the 'Spoons in Liverpool in Monopoly Run teams, anyone arriving just for this event can choose their location, there are a large number in the city centre and most are close to public transport links. (If travelling by train, we recommend the North Western, which is inside Liverpool Lime Street Station)
Campfire:
The Campfire will be happening from 19:30 onwards, if arriving after this time please follow the directions above for getting to the campsite.
If you experience any issues in the booking process, please contact webmaster@ssago.org.