Home
Get your badge!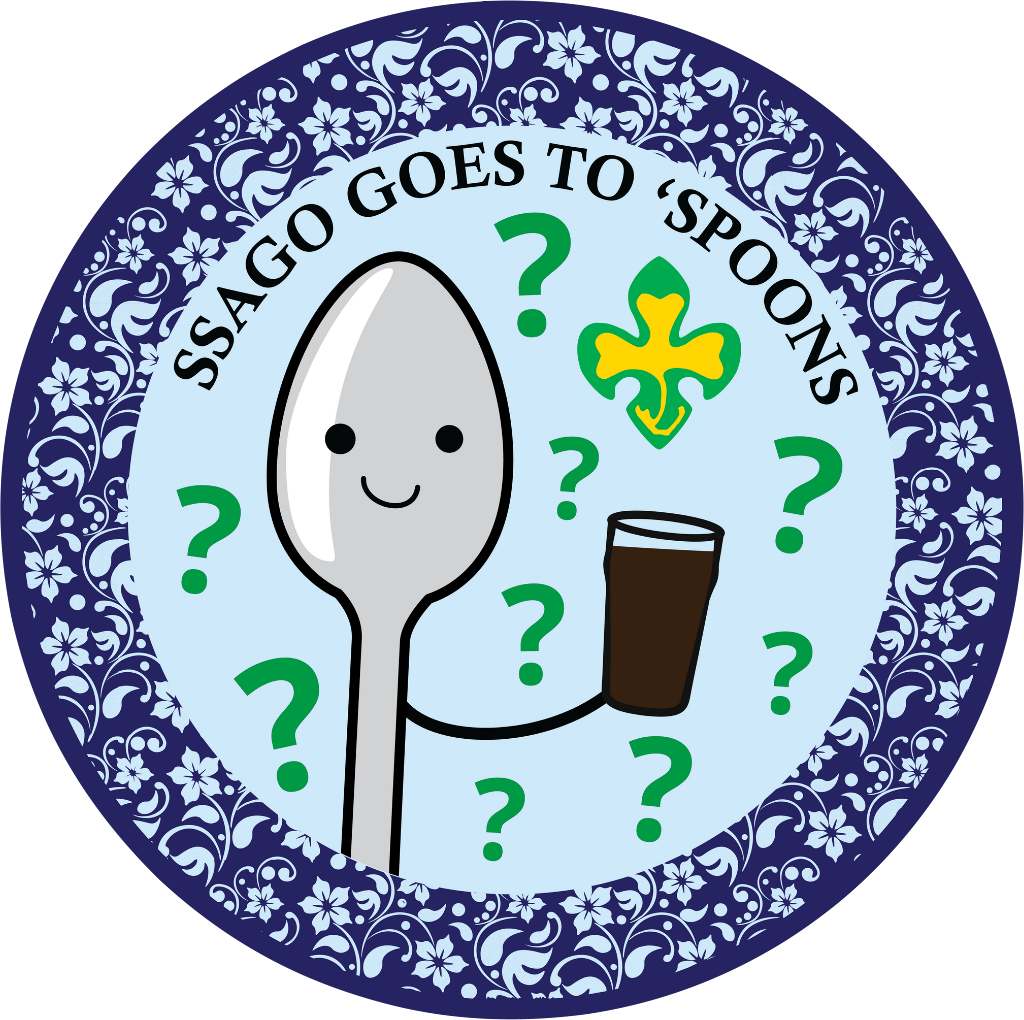 Badges for SSAGO Goes to Spoons are now available!
Get your badge!
Welcome to SSAGO Goes to Spoons!
What? SSAGO Goes to Spoons is a nationwide social event where SSAGO...goes to Spoons! But here's the catch, you don't get to decide what you want to eat or drink...somebody else does! Using the Wetherspoons app and the SSAGO website, you select items for a pre determined SSAGO member who is somewhere across the UK. Then in return you get something back, which somebody else has chosen for you! Share your food and drink on Facebook, have a jolly good time and eat lots of peas!
When? Friday 4th March 2022, 7pm
Where? A app ordering pub anywhere in the country!
Who? SSAGO members - but who sends you food or drink? Nobody knows!
Cost? However much you'd like to spend on your new friend (we suggest up to £7).
How? Head to your selected Wetherspoons and update your table number on the Secret Santa page (which will appear on this website closer to the day). Download the Wetherspoon App and select the pub where your friend is at. Enter their table number which you should also see on the Secret Santa page once they've arrived. Order them what they wanted (or something fun!). Meanwhile patiently wait for your food or drink and send clues to each other to work out who ordered what!
Join the SSAGO goes to 'spoons discord at https://ssago.org/chat
Booking closes at midnight Thursday 3rd of March!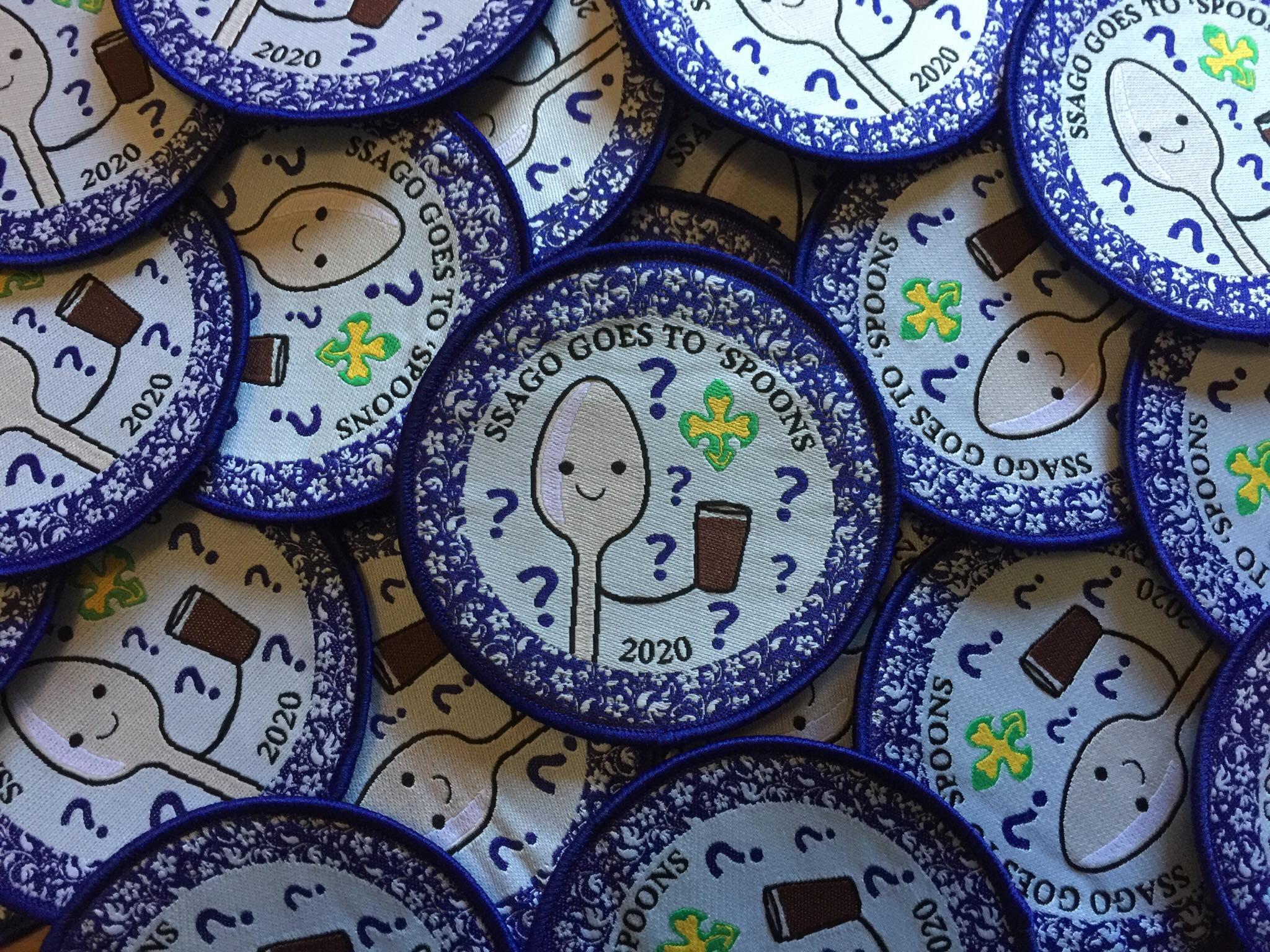 Booking Information
To take part you will need to know two things: which Wetherspoons pub you will be at and whether you want to eat or drink. Make sure your Wetherspoons is available to select whilst booking, and if it isn't then let us know and we can make it available. If you have any dietary requirements make sure they are correct on the membership system and be sure to select the special options in the booking phase.
Happy Staff = Happy SSAGO
Everybody wants to have a good time and we don't want to cause any nuisance to the hard working staff. Every Wetherspoons is different: some will love what we're doing, some will go along with it and some might not be too happy. A lot of the time the staff get confused when they bring items to your table and you don't know what you're expecting. Politey explaining to the staff about what's going on might get them to understand. We have had cases where they have refused to take more app orders - to prevent this: be nice to them and try not to order too much silly stuff that wastes their time.
Think Waste
If you've played before you may have received a bowl of peas or other similar funny item, after all it's part of the fun! What is sad is that sometimes food that is bought as a joke doesn't get eaten, leaving a lot of wasted food behind. Not everybody is privileged enough to be able to afford to waste food so please don't be too silly. Please consider donating to the Trussel Trust Food Bank charity which help to combat food poverty in the UK. Also bring a Tuperware if you want to save any left overs and freeze them or have them for breakfast the next day!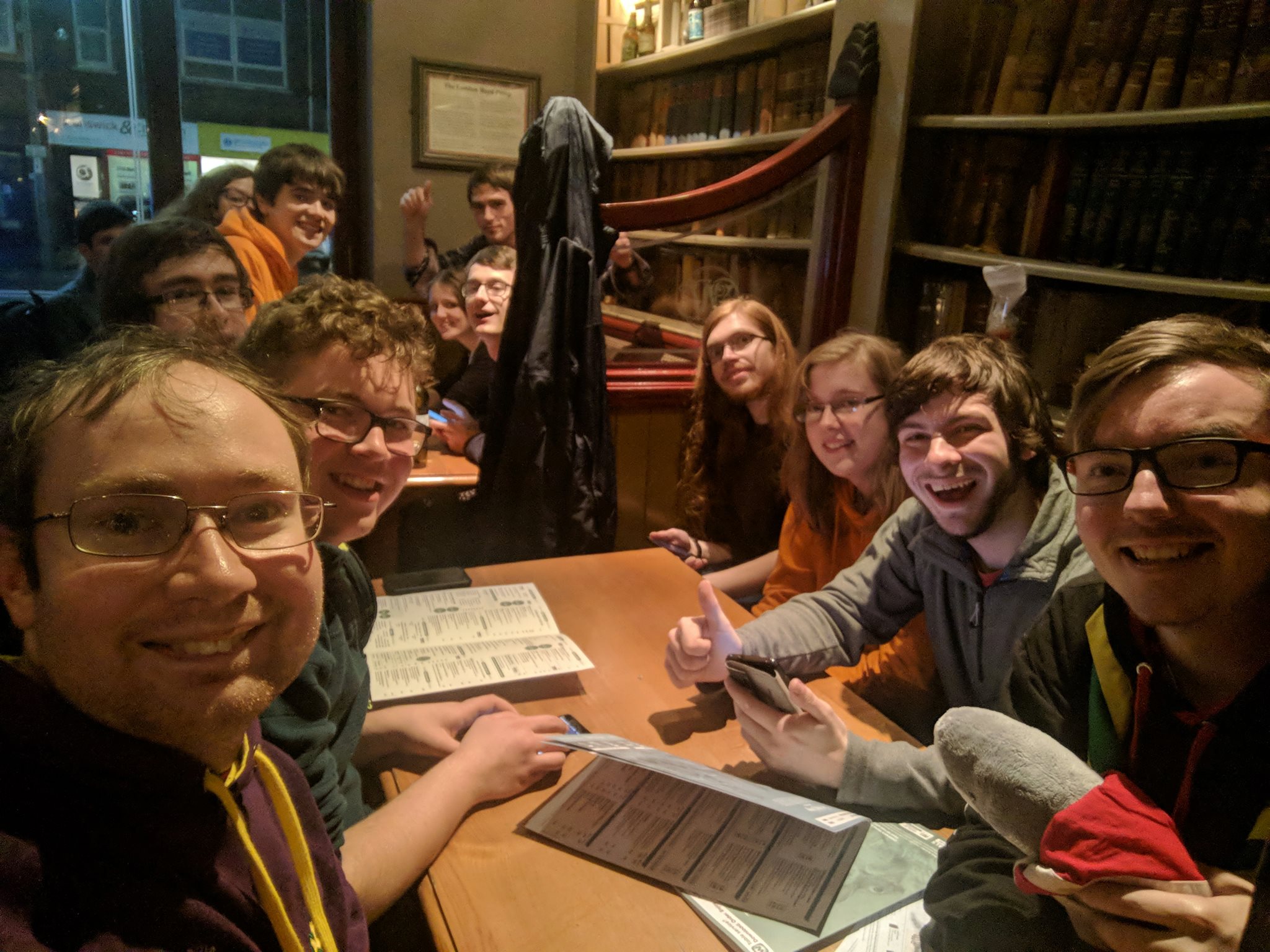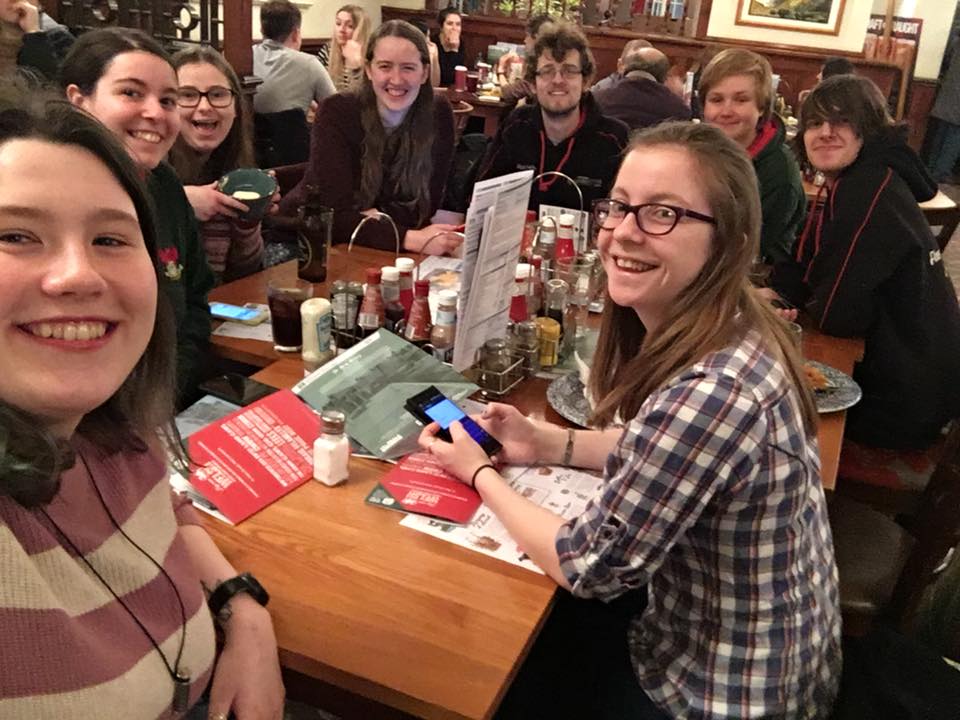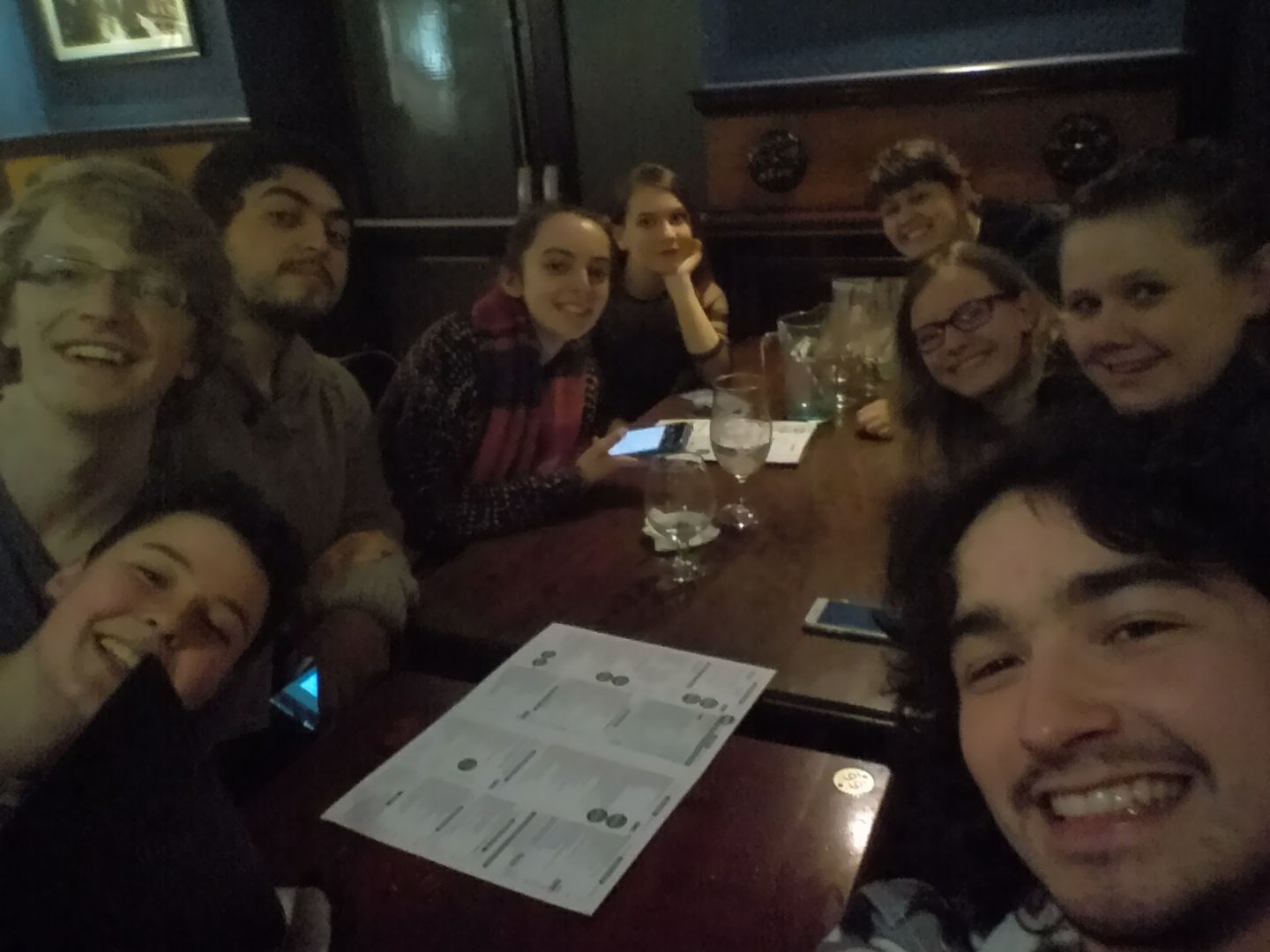 There are 96 members currently booked on from 21 clubs.
The most recent person to book was Izzy (Birmingham Universities Scouts And Guides).

Bangor University Guides and Scouts (1)

Bath University Guides and Scouts (3)

Birmingham Universities Scouts And Guides (3)

Durham University Scout and Guide Group (7)
Alfie
Amelia
Ben
Chloe
Kate
Katherine
Matthew

Independent Members (3)

Kernow SSAGO (8)
Eva
Georgia
Jack
James
John
Lara Carys
Leah
Lexie

Lancaster (5)
Annie
Chloe
Ewan
George
Jasmine

Leeds (1)

Liverpool Universities' SSAGO (14)
Beatrice
Becky
Caitlin
Caoimhe
Cerys
James
Joe
Jonah
Kiya
Kristina
Louis
Nathan
Rico
The Will

Manchester (5)

Newcastle Universities Student Scout and Guide Group (5)

Nottingham (7)
Abigail
Emily
Frederick
Harriet
Isobel
Luke
Samir

Oxford University Scout and Guide Group (4)

Plymouth University Guides and Scouts (4)

Salford Student Scout And Guide Organisation (3)

Scouts and Girl Guides York (1)

Sheffield StinGS (5)
Ciara
Ellie
Matt
Polly
Stephen

Southampton SSAGO (7)
Alex
Andrew
Joely
Kieran
Leon
Oli
Rosie

UEA SSAGO (EGGS) (1)

University of Bristol Guides and Scouts (7)
Alex
Angus
Daniel
Freya
Katie
Lucy
Naomi

University of South Wales SSAGO (2)
If you experience any issues in the booking process, please contact webmaster@ssago.org.