Home
Welcome to South West Freshers Camp 23rd - 25th October 2015. Here you can find out more about the details of the camp, our Saturday activities on offer and sign-up online to attend!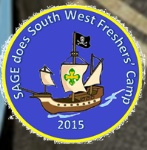 Facebook event link: https://www.facebook.com/events/1073403139354848/
Event details: SAGE is hosting South West Freshers' Camp 2015 in Torbay. It will be Pirates themed.
The camp is open to all South West unis plus Cardiff & Swansea as well as any Indy members who would like to come. Sign-up here until the 22nd October!
Location: Torbay Scout Campsite, Easterfield Lane, Torquay TQ1 4SW
Cost: £26 - which includes two nights camping, food for the weekend, camp badge and additional small miscellaneous things, eg decorations.
Cost for HALF CAMP ONLY: £15 - please pick this option for payment if you can only make less than half of the camp (i.e. just one night and 3 meals).
After you have signed up through the booking system on this website: use this link (https://www.exeterguild.org/ents/event/9139/) to make your payment. Click 'Buy' under the Full Camp or Half Camp option, then 'View Basket', and proceed to payment. If you are an Exeter student you should log in at this point, and if from other universities then just proceed and enter your details.
If you experience any issues in the booking process, please contact webmaster@ssago.org.